Join us for monthly events at the shop! Keep checking our Facebook for more up to date information.
---
January 9th, 2020 @ 5:30-7:30 pm
SNOW SPORT GEAR SOCIAL, with the Ladies Adventure Club
Woods + Waters Gear Exchange is hosting an evening of socializing and information on winter gear for LAC members & friends. They will have expert users and product developers on hand to talk about the equipment we want to get outdoors in the snowy months such as snowshoes, cross country Skis, back country gear, microspikes, poles…. even sleds!
There will be a presentation to the group, then chance to talk individually and ask questions. Plus tasty food and drink! Inventory is available for purchase during the evening, but our primary interest is to help you prepare you for a fun snowy season outdoors, and a chance to be together!
No experience necessary.
Bring a female friend, let's all learn what we need to play in the snow.
---
AUGUST 9th @ 5:00-7:00 pm
2nd FRIDAY ARTWALK
Sticks Stones and Mud All Over
A collection of photographic works by
Brooke Adams
www.twistedsprocketstudio.com/Adventures-in-Nature/Fine-Art/
---
JULY 12 @ 5:00-7:00 pm
2nd FRIDAY ARTWALK
---
JULY 10 @5:30-7:00 pm
INTRO TO HIKING / BACKPACKING:
Slideshow and talk format. Hear a fellow outdoors-man share their experience on how to be prepared for a single or multi-day hike.
Speaker : Christopher "Frosty" Lewis – U. S. Army (Ret.)
Hiking / Backpacking Accomplishments:
Appalachian Trail: 1999 – Multiple Sections SOBO)
Appalachian Trail: 2016 – Georgia section
Franklin Mountains: 2004-2005
Maine 4000 footers: 1997 – 2005
New Hampshire 4000 Footers: 1997 – 2005
Bukhansan National Park, Uijeongbu, South Korea: 2001-2002
White Sands, New Mexico : 2011
Lookout Mountain, New Mexico :2004
Mount Scott, Oklahoma: 2011, (Winter)
Mount Baker, Washington: 2007
Mount Hood, Oregon: 2007
A Maine native from Barter's Island, Chris graduated from Morse High School in Bath (Class of 2000), before serving in the military as a Unit Supply Specialist for 15 years with 2 deployments (Iraq '05, Afghanistan '08). He is an avid hiking and backpacking enthusiast / gear junkie, who likes to spend his free time backpacking in the mountains or spending quality time with friends. He is currently gearing up for his next adventure, a thru-hike attempt of the Appalachian Trail in March of 2020, which you can follow along on his YouTube channel, Frosty Hiker.
FREE Event: Please register below for a headcount!
Event found here – please click!
---
MAY 29 @5:00-7:30 pm
WILDERNESS FIRST AID: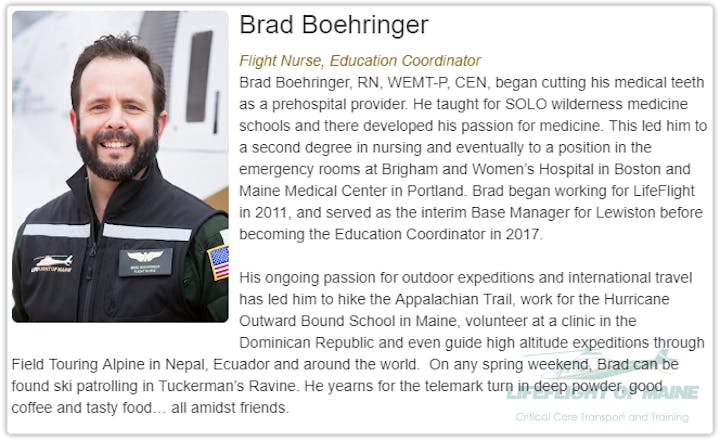 Have you been looking for creative ways to help take care of your friends when they injure themselves during backcountry adventures? Been anxious to take a wilderness first aid class or just feel a bit rusty in your skills? Do you hate the idea of carrying a massive first aid kit but feel like you should?
Let's brainstorm ways that you don't have to and instead can use what's in your pack, or on the Woods + Waters shelves, to treat your injury prone friends.
Join local LifeFlight of Maine nurse/paramedic and longtime SOLO instructor Brad Boehringer on May 29th from 5 pm to 7:30 pm to dust off those skills or rethink how you pack your pack. Bring your first aid kits and lets review what's in there and why!
FREE Event: Please register below for a headcount!
---
MARCH 27 @5:30-8 pm
Brought to you by:
https://www.rewildmaine.org/events/darning-and-mending-1?fbclid=IwAR26rrQ7qk4O6FNZWX0AYYIabN1dbCPh4E7MSyfeXAgvBZPtFshgrcirBbE