Join us for monthly events at the shop! Keep checking our Facebook for more up to date information.
---
AUGUST 9th @ 5:00-7:00 pm
2nd FRIDAY ARTWALK
Sticks Stones and Mud All Over
A collection of photographic works by
Brooke Adams
www.twistedsprocketstudio.com/Adventures-in-Nature/Fine-Art/
---
JULY 12 @ 5:00-7:00 pm
2nd FRIDAY ARTWALK
---
JULY 10 @5:30-7:00 pm
INTRO TO HIKING / BACKPACKING:
Slideshow and talk format. Hear a fellow outdoors-man share their experience on how to be prepared for a single or multi-day hike.
Speaker : Christopher "Frosty" Lewis – U. S. Army (Ret.)
Hiking / Backpacking Accomplishments:
Appalachian Trail: 1999 – Multiple Sections SOBO)
Appalachian Trail: 2016 – Georgia section
Franklin Mountains: 2004-2005
Maine 4000 footers: 1997 – 2005
New Hampshire 4000 Footers: 1997 – 2005
Bukhansan National Park, Uijeongbu, South Korea: 2001-2002
White Sands, New Mexico : 2011
Lookout Mountain, New Mexico :2004
Mount Scott, Oklahoma: 2011, (Winter)
Mount Baker, Washington: 2007
Mount Hood, Oregon: 2007
A Maine native from Barter's Island, Chris graduated from Morse High School in Bath (Class of 2000), before serving in the military as a Unit Supply Specialist for 15 years with 2 deployments (Iraq '05, Afghanistan '08). He is an avid hiking and backpacking enthusiast / gear junkie, who likes to spend his free time backpacking in the mountains or spending quality time with friends. He is currently gearing up for his next adventure, a thru-hike attempt of the Appalachian Trail in March of 2020, which you can follow along on his YouTube channel, Frosty Hiker.
FREE Event: Please register below for a headcount!
Event found here – please click!
---
MAY 29 @5:00-7:30 pm
WILDERNESS FIRST AID: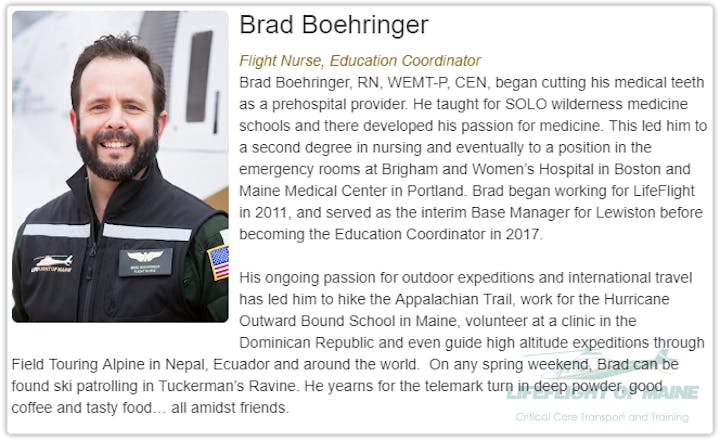 Have you been looking for creative ways to help take care of your friends when they injure themselves during backcountry adventures? Been anxious to take a wilderness first aid class or just feel a bit rusty in your skills? Do you hate the idea of carrying a massive first aid kit but feel like you should?
Let's brainstorm ways that you don't have to and instead can use what's in your pack, or on the Woods + Waters shelves, to treat your injury prone friends.
Join local LifeFlight of Maine nurse/paramedic and longtime SOLO instructor Brad Boehringer on May 29th from 5 pm to 7:30 pm to dust off those skills or rethink how you pack your pack. Bring your first aid kits and lets review what's in there and why!
FREE Event: Please register below for a headcount!
---
MARCH 27 @5:30-8 pm
Brought to you by:
https://www.rewildmaine.org/events/darning-and-mending-1?fbclid=IwAR26rrQ7qk4O6FNZWX0AYYIabN1dbCPh4E7MSyfeXAgvBZPtFshgrcirBbE